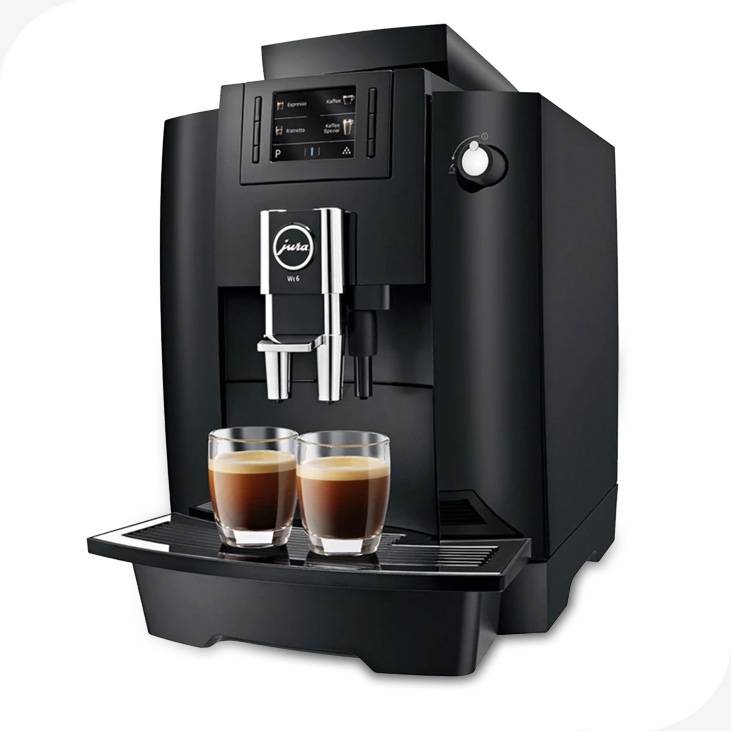 Description
Coffee specialties at work
Enjoying a cup of coffee can create a conducive atmosphere for communication, relaxation, and productivity. The WE8 is an aesthetically pleasing machine that caters to diverse tastes with its wide variety of tasty coffee specialties. Its water tank can hold up to 3 liters, and its bean container can store 500 grams of coffee beans, while the coffee grounds container can hold up to 25 portions. This makes the WE8 an ideal solution for places where 30 different coffee specialties are consumed every day.
Innovative technologies have revolutionized coffee tasting, and with the WE8's One Touch function, preparing trendy specialties like latte macchiato, flat white, or cappuccino is as easy as pressing a button. Its front buttons and modern TFT display make the machine user-friendly for both novices and experienced baristas.
The WE8's sleek design, accentuated by refined chrome parts, makes it a highlight in any kitchen.
State-of-the-art technology for perfect tasting
The Professional Aroma Grinder offers 12.2%* more aroma and high grinding quality over the entire life of the machine. Its perfected geometry achieves the optimum grinding curve: the grind contains a higher proportion of fine particles, which guarantees ideal flavor development.
* Professional Aroma grinder compared to conventional grinders
For specialty coffee lovers
Our popular office coffee machine has been further developed. The WE8 now makes 16 different specialties at the touch of a button, including several irresistible new features: espresso macchiato, espresso doppio, special coffee and green tea water.
Fine froth nozzleG2
The new fine froth nozzleG2, made of the finest materials, is a treasure trove of aesthetics and haptics. Specially designed for preparing coffee specialties with milk foam, it crowns cappuccino and so on with a perfect fine foam.
As unique as your wishes
The WE8 is designed to cater to different needs and preferences, providing a variety of programming and customization options. You can adjust the amount of coffee powder and water to suit your personal taste and the cup size you use. Furthermore, you can choose to block certain coffee specialties and prioritize others. The machine also offers different modes, which can be activated upon request, that restrict access to presettings or cup capacity modifications unless a specific combination of keys is entered to prevent any unintended changes.