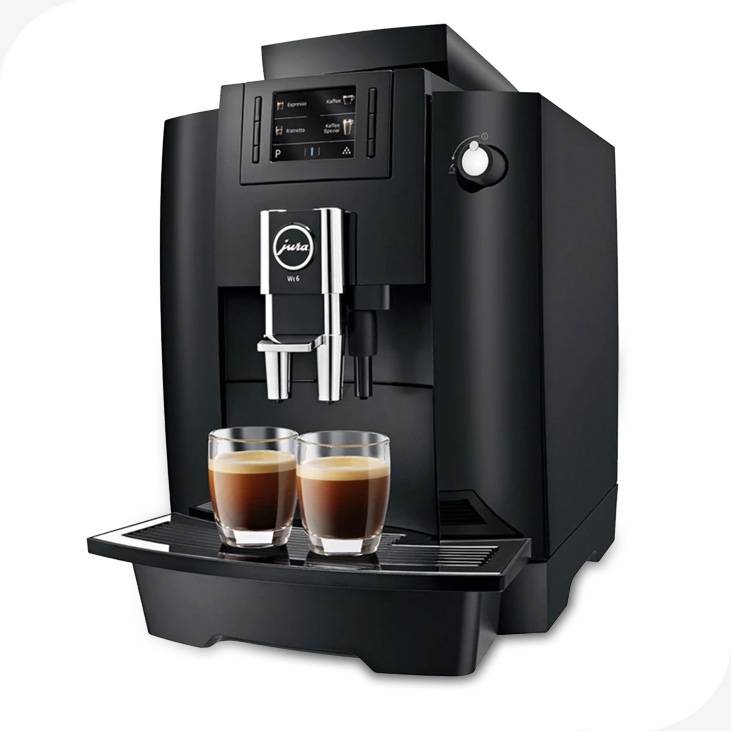 Description
The classics of coffee at work
Coffee has a unique ability to create a comfortable and productive atmosphere, promoting communication and relaxation. It's no surprise that coffee has become a staple in workplaces, providing the perfect space for creative thinking and productivity. The new WE6 machine is designed to master classic coffee drinks, from ristretto to café crème and espresso, ensuring that every cup is enjoyable and satisfying.
This elegant automatic machine with a three-liter water tank, a 500-gram coffee bean capacity, and a 25-portion coffee grounds container is the ideal solution for workplaces where 30 different coffee specialties are consumed daily. Innovative technologies have revolutionized coffee tasting. With front buttons and a modern TFT display, even novices can easily operate the machine.
State-of-the-art technology for perfect coffee enjoyment
The WE6 offers a choice of eight specialities. JURA has completely revised and perfected the brewing process for short coffee specialties. This means that the WE line offers the quality of a coffee bar. The six-stage Aroma G3 grinder ensures optimum grinding. It grinds fresh coffee beans quickly, while preserving their aroma. The variable brewing unit, with a capacity of 5 to 16 grams, creates ideal brewing conditions. The Pulsed Extraction Process (P.E.P.®), developed by JURA, optimizes the extraction time by injecting hot water in rapid pulses through the coffee powder to prepare a ristretto or espresso.
TÜV-certified hygiene
Cleanliness and hygiene are of paramount importance in the workplace. That's why the integrated rinsing and cleaning programs, combined with cleaning agents specially developed for JURA automatic coffee machines, guarantee perfect hygiene at the touch of a button. This hygiene, certified even by TÜV Rheinland, makes the WE6 a top choice for companies that rely on a HACCP system (Hazard Analysis and Critical Control Point).
As unique as your needs
The WE6 provides a range of programming and customization options to meet various needs in different locations. It allows for complete adaptability of coffee powder and water quantities based on personal preferences and cup sizes. Additionally, some coffee specialties can be blocked while others are prioritized. Different modes are also available upon request to enable modification of presettings or cup capacity by entering a specific key combination, which prevents operating errors.